If you write on a regular basis, you might find NextCloud, a share and open file sync tool, useful. Not only does it provide you with secure and free accessible file storage but this platform is fully customizable. Therefore, you can choose different writing tools and make your documents well-organized.
Now NextCloud features different editorial apps that help in editing text. Two commonly used apps are OnlyOffice and Collabora. While both applications can help edit, save, and store your documents, they have some major differences which may make you favor one over the other depending on the task you're trying to accomplish.
Today, we will talk about OnlyOffice vs. Collabora 2022 to help you make an informed decision.
Quickly Navigate to:
What Is OnlyOffice?
OnlyOffice is an application that can be used for writing and editing text documents, presentations as well as spreadsheets. This app comes with several collaboration features that help efficient teamwork on your documents.
Among the reasons why this app has many users is that individuals can choose how they collaborate with their team. It supports the co-editing of documents in real-time as with using Google Docs. You'll also see all changes immediately your co-authors make them.
For teams that need more confidentiality, one can change settings such that they see changes made by co-authors only when they save them. Additionally, there is a preview mode for those who need more control which lets you reject or accept changes by your collaborators. Furthermore, there are add-ons for features like photo editor, YouTube video, and symbols.
What Is Collabora Online?
This is an office suite that's based on another excellent open-source alternative to Microsoft Office. This software offers you a complete set of editing and formatting tools that help you change your text's style and document layout. Individuals can also insert images, objects, and do more directly from their browser.
Collabora supports different office documents like PPT, COC, XLS, ODF, and DOCX. It also provides you with some collaboration capabilities. Individuals can co-edit documents with other users on NextCloud or you can also invite people who don't have a NextCloud account using a link to collaborate anonymously on your document.
Now that we understand, briefly, what these two office suites are about, let's get to the next part of this OnlyOffice vs Collabora online guide.
Collabora vs Onlyoffice Comparison In Terms of Features
OnlyOffice Features
OnlyOffice organizes and consolidates different business tasks as well as processes into an easy solution accessed on cloud-based. While you can access the free suite, one can also integrate this software into their servers at a cost.
It comes with a desktop editor that can be downloaded which supports several OpenDocument and Microsoft Office formats. This editor is compatible with Mac and Windows but it can perform well on other popular desktop platforms.
OnlyOffice is equipped with HTML5 online editors via Canvas editor that has certain features that are only exclusive in OnlyOffice. This suite supports a wide range of editing features for common document formats.
It's also equipped with an in-built chat module that allows easy collaboration for team works. This feature monitors changes and gives individuals the ability to choose collaborative access changes. It also features a control system where one can define the level of privacy for uploaded documents, share files, and record every change to all documents no matter their sizes.
Additionally, it integrates with CRM communications and the company's mail server. That includes sent/received communications, calendar invitations as well as entries and attached files. Because administrative functions and documents are placed under one tool, this improves productivity.
Lastly, it has an in-built project management module featuring a Gantt Chart and Task Assignment Modules. Project managers can therefore easily assess assignments as well as timelines. Other tools include business collaboration tools, an email aggregator, and a calendar.
Collabora Features
Collabora Online is one of the collaborative document editing software tools available. It is an adaptation of another Office suite for NextCloud. It was started in late October 2011, in a conference by a demonstration video by the developer, Michael Meeks. Eventually, the Collabora Development Edition (CODE) was developed in December 2015.
To access its demo, you'll need to fill a brief form. On its home page, you'll see examples of spreadsheets, presentations, and text documents. Once you click on the dropdown menu, you'll be directed to options for creating a new document.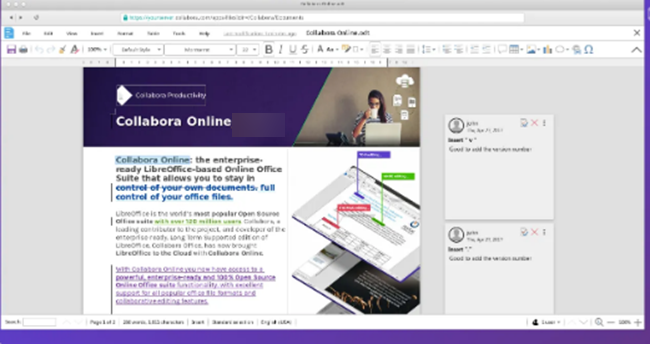 Features of Collabora are similar to those of another sister Office suite, only that they are more advanced. Like earlier said, this platform allows sharing editing capabilities where one can see changes of one author in real-time therefore minimizing editing and versioning conflicts along with complementing the in-built secure chat.
Since it's an OpenSource, you can store and edit your data without giving up control over your files.
It is well-integrated; meaning you can insert photos directly from your NextCloud. Additionally, you can chat, or call while editing and also view comments.
Other key features include:
Viewing and editing documents
Spreadsheets
Author new content
Preservation of layout
Document formatting
File revision history
Full-screen presentation
Collaborative editing tools
Benefits of OnlyOffice Compared to Collabora
OnlyOffice is equipped with several features plus it's compatible with many formats. Additionally, it allows you to edit on the go. With this program, you get a versatile software tool that comes with document management, mail, CRM, and project management tools. One can track sales and measure the success rate of specific partnerships as well as deals.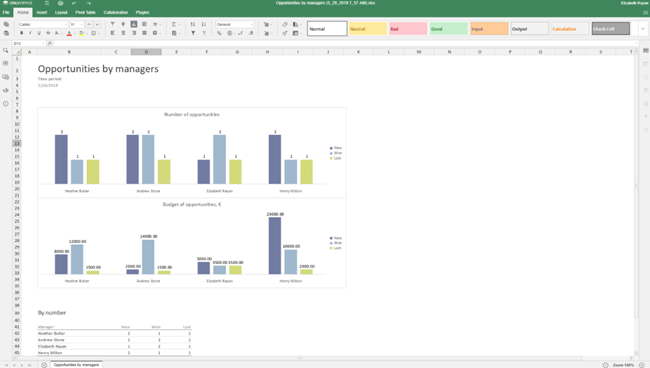 For businesses, it helps them manage their customer relations easily. Additionally, as it can run on both OpenDocument and MS Office formats, you don't have to worry about converting. Other document types include DOC, DOCX, PDF, etc.
You are also offered several collaboration features like Fast co-editing mode, version control, tracking changes, integrated chat, etc.
Again, mobile and desktop apps allow users to edit their documents from wherever they are. You can even use these apps without an internet connection except the Android app. Also, since this suite can be deployed on your server, it gives you more control and ownership of your data.
Collabora, on the other hand, is a powerful suite where you can access documents and work collaboratively. You can integrate this suite into your web application and use its scalable viewing. It supports several file formats, enables collaborative editing as well as rendering capabilities. It comes backed with long-term customer support from Collabora along with MSP patches that make it easy to upgrade.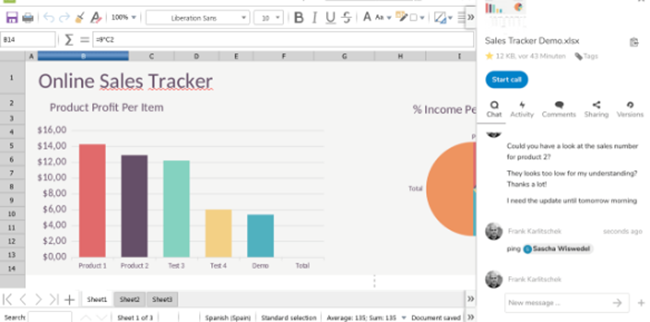 Nextcloud Onlyoffice vs Collabora Online: Which Is Better?
To determine which suits you best, there are some differences between OnlyOffice and Collabora that you should consider. These include:
Rendering
OnlyOffice offers users a fully-packed editor in their browser. Every event is processed on the client's side then sent to the server. Hence, delivers a quick editing process. On the other hand, Collaborra's page is divided into blocks that promote fast rendering.
But, since these pictures travel from the server, it can be a bit interruptive and one block can be rendered slowly than others or not rendered at all.
Functionality
Collabora originates from an earlier Office suite, which means it imported all features of this platform. However, there are no charts, auto shapes, and table of contents which are important in an editing software tool. Therefore, editing capabilities remain a bit basic on this platform. This is where OnlyOffice excels. It comes equipped with objects, diagrams, formulas, and auto shapes which all help in editing.
Compatibility
Collabora, unfortunately, isn't compatible with Microsoft formats. Well, this might not be an issue if you usually use ODF. However, for those who strongly prefer Microsoft, this can be a huge problem. Collabora stores a significant part of the text in DOCX or DOC. But Microsoft has all editors installed. The platform is built on PPTX, DOCX, and XLSX.
Price
Well, Collabora might look cheaper from the outside but it's not. Let's give an example. When you open a file that costs 500 MB of your memory and your co-author opens the same size, another person also opens a document that takes 1.5 GB. In the long run, you'll end up overloading the server only because three people have opened their documents.
Therefore, with a bigger team, Collabora may not be an effective platform. This isn't a problem you'll experience with OnlyOffice.
Sharing Options
Collabora's editing features are based on one editor for all active users on a specific document. Which means you'll share the editing process and modes. So if two people are co-editing a document on Collabora and one switches the Track Changes mode, it'll launch for all users.
It could be the reason why Collabora does not include non-printable characters. But because the editor is yours in OnlyOffice, you can switch co-editing modes, track changes as well as non-printable characters without interference. One dual co-server on this platform can host up to 150 users.
Lastly, when you press Ctrl+Z, you expect that the changes you made last disappear. But when co-editing a document, you'd not want your work undone by the other user. In Collabora the undo or Redo button changes your whole document.
Let's explain further, User 1 types Z. User 2 types T. User 1 wants to undo what they typed but they can't since User 2 typed the last input. This means the second user must first delete what they typed for User 1 to undo their changes.
What this basically means is that the suite isn't able to differentiate collaborated editing from solo editing. However, in OnlyOffice, there are different co-editing modes in which users can do changes. Bear in mind that everything, including changes sequence, happens on the client-side.
OnlyOffice Drawbacks
Well, much as OnlyOffice has better features than Collabora, it also has some drawbacks. For example, this suite doesn't run on every OS system, however, developers are working on that. Again, the iOS mobile app doesn't connect to a NextCloud Server directly. Hence, you'll require an OnlyOffice Community server.
Collabora vs OnlyOffice: Pricing Plans
Well, both platforms vary their pricing plans depending on the number of users. OnlyOffice offers a free trial, if you like the platform afterward, you can pick your subscription plan from the following list.
1-2 users
3-5 active users
6-10 active users
11-20 active users
21-30 active users
31-50 active users
Also, note that the higher your plan, the more storage capacity you're given. For instance, for 1-2 active users package, you're given 8 GB disk storage space while for 31-50 users plan, individuals get 200 GB disk storage space. If you'll be more than 50 active users on the platform, contact their sales department for a pricing plan that suits your company. The vendor offers live, email, and phone support as well as training.
Collabora on the other hand offers a free demo. After that prices are as follows:
Collabora Online Development is free on-premise and supports up to 20 users. It is only for home/text users.
The supported version that is meant for up to 99 users is $18 per user annually. You get access to customer support and portal, maintenance as well as signed security updates.
If you need a custom number that is not covered by the above packages, get in touch with their sales team. Also, note that the company offers special volume discounts for more than 100 users.
Similarities between Collabora and OnlyOffice
Both allow comments
One can review and track changes in both
They both have redo and undo options
They both allow co-editing modes
Both support individual zoom and spell check for each user
Conclusion
OnlyOffice isn't perfect. However, if you need a collaborative editor, then you can consider it.
Also, although Collabora has all features of a sister Office suite, it is raw and has many issues with working in collaboration and browser. But, many of its drawbacks can be fixed. However, when, is the issue.
So, is Collabora better than Onlyoffice? Well, that depends on your needs and preferences. However, if you want our advice on Collabora or OnlyOffice, we recommend the latter option.