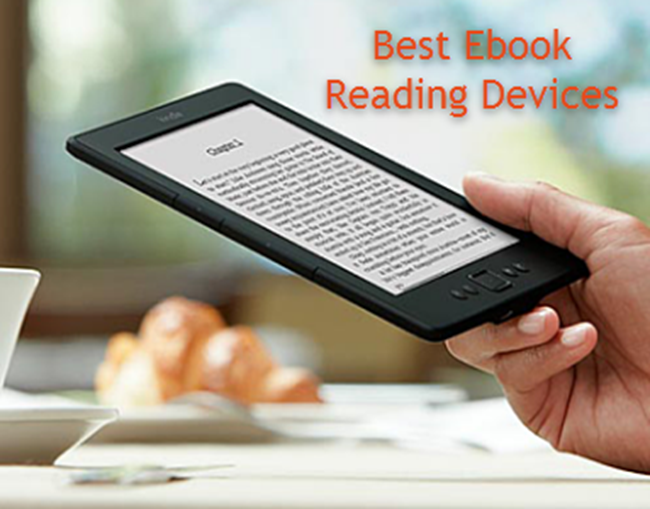 How are e-readers helpful? The accursed Coronavirus has forced many physical stores, including those that sell books, to close down. Even online portals are not delivering printed books to areas marked as "high-risk zones." Thanks to this deadly attack, people are forced to work from home.
However, they need entertainment too. People who love to read books are the worst sufferers as they are unable to get their hands on the latest and popular books.
The scenario is the same with daily newspapers too. Although newspaper publishers offer digital versions of daily newspapers, it may be difficult to read them on a small smartphone screen. Then there is the problem of clicking on links to go to specific sections/pages of the newspaper or digital books.
Would it not be great if they could flip from one page to the other as with printed newspapers and magazines? The good news is that they can overcome this problem with an eBook reader, a mobile electronic device designed primarily to read digital newspapers, periodicals, and eBooks.
Best EBook Reader Device 2022
Those planning to purchase such a reading gadget might feel intimidated by the huge assortment of digital eBook readers available online. This eBook reader comparison is primarily for individuals planning to delve into the world of e-reading for the first time.
It is also helpful for those who have old eBook devices, and are planning to buy the best electronic book readers. I shall be providing details of some of the most popular electronic readers of 2022. It will help you determine the best electronic book reader for your purpose.
You might find some ebooks with Digital Rights Management restrictions on Kindle, Adobe, PDF, Kobo, Sony eReaders. For these, there is a simple solution to remove the DRMs from these ebooks so that you can read on any device without restrictions.
All of the electronic reading devices reviewed here are capable of storing thousands of eBooks. For more details, keep on reading this review of the best e-readers of 2022.
Quickly Navigate to:
How Much Does An EBook Reader Cost?
People planning to purchase the best tablet for reading books in whatever format, including PDF (most eBooks are in the EPUB format) might be wondering about the cost of the device. The price for each eBook device, (also known as digital book readers) varies.
Those facing a wage cut might prefer purchasing cheap e-book readers while others might be looking for eBooks readers that provide them with the best reading experience. I suggest that you stay away from cheap e-readers in your quest to buy eBook readers online.
Those who have subscribed to online newspapers will opt for a tablet for online newspaper reading.
Unlike notepads or tablets whose brightness strains the eyes of the reader, the electronic eBook reader has a soft and white background. Users can read with it for hours without straining their eyes.
Size And Weight
As the dimensions and weight of the best e-reader 2022, covered in this article, are the same as that of a printed book, you will not face any difficulty in adjusting to it.
If you have doubts as to whether your favorite book is available in digital format, search Google for the most popular eBooks or top eBooks. The chances are bright that you will find your preferred book listed on one of the several sites selling and leasing digital publications.
Once you use electronic reading devices for some time, you will get habituated to eBook reading and may never opt for traditional publications again. Apart from reviewing the best eBooks reader 2022, I shall also talk about small and large e-readers.
What Is The Best E-book Reader Out There?
Best E-Book Reader for Your Eyes
(Kobo Clara HD eReader)
Some eBook readers do not have a comfortable display, and their screen reflects light falling on it, causing problems for the user to read the text and view the images of a digital publication. However, the Clara eReader from Kobo is different, since it boasts of a 6-inch high-definition and glare-free touchscreen display.
Light Weight
This Wi-Fi-enabled device is light in weight, making it easy to carry around, which is a boon for travelers. It weighs under six ounces, and this Kobo screen size is 4″ x 6″, which makes it small and light enough to put comfortably in small bags as well as in large jacket pockets.
Anti-Glare Screen
The Kobo Clara HD has a long battery life, and its anti-glare screen ensures that you can read eBooks on it outside, even in bright light conditions. You have the option to adjust its brightness as well.
Support for Various Ebook Formats
It supports as many as 14 file formats (PDF, EPUB3, EPUB, and MOBI along with documents, comic books, images, and much more), ensuring that it will read practically all eBook formats.
No Intrusive Ads
Be prepared for a pleasant surprise. You will not find intrusive ads, as seen on many Amazon Kindle readers, popping up when you are reading an important article, making you lose focus.
How Much Is A Kobo E-Reader?
You can buy Kobo eReader from Walmart at a discounted price, which is much less than its list price. Why delay purchasing an eBooks eReader when you can get it at such a discounted price?
I loved the 1,072 x 1,448 and 300ppi high-definition screen resolution of this device. The unit does not have a backlit display, since it relies on E-ink technology, meaning you can read the text and view graphics on its screen from any angle without any distortion.
Although it displays everything in black and white, the advantage is that it is easier on the eyes. The tapping motions on this e-ink Reader are also quite good.
I loved the way I could turn pages using swiping gestures.
Storage Space
The 8GB storage on the device allows the eReader to hold up to 6,000 eBooks.
Best Waterproof E-Reader
(Kobo Libra H20)
Support for Many E-Reading  Formats
On the one hand, the reader devices manufactured by Amazon can only read MOBI format files and Kindle books. On the other hand, the Kobo Libra H20 can read a wide range of file formats such as EPUB, PDF, MOBI, RTF, HTML, various graphic formats, as well as CBZ and CBR (used mostly for comics).
I am sure Manga fans will love this device. I decided to purchase and try the H20 for this Kobo e-reader review and was pleasantly surprised by what it offers. It can effortlessly read eBooks downloaded from different sites.
Drag And Drop E-Books
All Kobo eBook readers connect to the internet using 2.4 GHz WI-Fi, and the H20 follows the tradition. It boasts of 8GB storage space and also offers you the option of dragging and dropping your stored eBooks into it through a standard micro USB cable.
Display And Screen Resolution
The unit has a resolution of 1,680 x 1,264 and 300 PPI and features a 7-inch E-ink Carta HD display. The device, instead of using a backlit display, incorporates amber and white light-emitting diodes on the screen's bottom, which projects light upwards as well as equally across the screen.
You can use both LED lights independently or simultaneously with the help of a slider bar in the drop-down menu.
You can conserve battery life by switching off both LED lights when using the device in natural light and brightly lit places.
Some Hardware Specs
When I compare e-readers, I check the eBook hardware as well.
The H20 has 512MB RAM, 8GB of internal storage, and runs on a Freescale Solo Light 1GHz processor.
It has a 1,200mAh battery, which provides it with enough power to run continuously for two weeks on a single charge. Casual readers can easily use this unit for a month before they need to recharge it.
Waterproof
The H20 is among the best waterproof digital readers available on the market and remains undamaged even when submerged for an hour in two meters of fresh water. The only caveat is that you cannot use the device while submerged in water.
I am sure bathroom readers will enjoy using this device in their bathtubs. The waterproof feature also comes in handy when you accidentally spill liquid on the H20's screen. The waterproof feature of this unit makes it among the most popular eBook readers.
Purchase this best-selling eBook reader, which sits at the top of the list of 2022 eReaders by Kobo.
Best Adjustable E-Reading Device
(Kobo Aura)
The Kobo Aura is yet another waterproof and good eBook reader device.
One of The Lightest in Weight
Most people complain about the display quality of some handheld eBook readers. They will love the 6″e-pearl display of this unit that tips the scales at a measly 174 grams, making it one of the lightest front-lit eReaders available on the market as well.
Thanks to the lightweight of the device, you can hold it for long periods, something that commuters will love.
Excellent Battery Life
I loved the outstanding battery life of this device, which is more than the other Kobo eReaders. Its battery lasts for more than two months if you use it for half an hour daily.
Provides Reading Stats
It is one of the rare books e-reader that includes a wide range of reading stats. For example, it informs you about the percentage of the chapter or book you have completed reading, or how long you have until the end of the chapter.
You can access the well-presented features from the home screen of this best ebook tablet 2022.
Great Hardware Specs
The unit also boasts of the best eBook reader hardware, the specs of which include a 1 GHz Freescale processor, inbuilt LED front light for nighttime reading, 4GB internal memory, and MicroSD card slot with support for up to 32GB.
The device, which comes at a good price, weighs 174 grams and is available in black and pink colors. It supports TEXT AND IMAGE formats such as CBZ, MOBI, CBR, RFT, XHTML, HTML, TXT, TIFF, PNG, GIF, JPEG, PDF, EPUB, and Adobe DRM.
Considering these specs, it is one of the best PDF eBook readers too, especially for those who also like to take notes in PDF format.
Offers Definitions While Offline Too
Its "Beyond the Book" button offers definitions and additional information about key places and figures in novels in offline mode too.
Changing from one page to the other is swift and effortless with hardly any lag.
You can purchase eBooks directly on this book reader using Wi-Fi. You can also use Wi-Fi to download books from your PC or any other Kobo-app-wielding device.
Therefore, I have included this device in my best eReader 2022 list. I hope my Kobo reader review helps you select the best eBook reader tablets that meet your requirements and budget. Start reading eBooks with one of the above best e-readers. They can be acquired from any part of the world (including people who live in Australia and India), irrespective of where you live.
Try this as your first PDA Palm device.
Best E-Reader for Textbooks
(Barnes & Noble Nook Glowlight 3 eReader)
If you are looking for a solid piece of hardware that goes for about the same price as that of the Amazon Kindle Paperwhite, look no further than Barnes & Noble Nook Glowlight 3.
The Hardware Specs
Weighing less than 205 grams, this best tablet eBook reader has a black plastic cover with a grippable matte back. Both sides of the screen contain physical page-turn buttons, a feature not found on Kobo readers and the Amazon Paperwhite.
The unit boasts a very readable 1,448 x 1,072 and 300ppi e-ink Carta screen.
Automatic Glowlight Adjustment for Convenient Reading
I was bowled over by the Nook's color-changing glowlight that changes from a cool blue to a warm yellow based on the internal clock of the device or through user settings. It ensures that you get a restful display that is viewable outdoors with a crisp black type on a nice pale background.
Good Battery Life vs Number of Page Flips
You can easily flip 300 pages on a single battery charge. According to the vendor, you can get up to 1,500-page flips with wireless off and setting the font light at 10%.
Easy Ebook Purchases
You can either purchase books from the online store of Barnes & Noble or transfer them into this device from your PC via a micro USB cable. Downloads on this device, which has 6.5GB onboard storage, come via 2.4gHz Wi-Fi.
Easily Arrange Ebooks in Shelves Separated for Multiple Device Users
Multiple users can use this device on the same purchase account, and each user has their shelves to help them separate their books. For example, one can set a kid's shelf for creating library books for their kid, and an adult shelf for storing his/her books.
Good for Both Righ and Left-Handed Individuals
The unit has a micro USB charging port at the bottom and a power button centered on the top. It does not matter whether you are left or right-handed since the device has page turn buttons on both sides.
Those searching for the best choice for eBooks that can read the most popular books should buy this good e-reader.
Best Large E-Reader
(Kobo Forma eReader)
Rakuten, the company behind the Kobo brand, has always upped the ante regarding offering people the best eBook reader gadget. Their latest offering, the Forma Reader is sold at a good price and is, unarguably, the best tablet eBook reader.
Large But Light in Weight
It has more features than the Aura One and is lighter and larger too. It is the largest eBook reader offered by a North American brand.
The basic configuration provides 8GB of storage space, which is more than sufficient and allows you to store thousands of digital books. Its 1,200mAh battery ensures that you will be able to enjoy it for many weeks on a single charge. It gets my vote for the best handheld PDF reader.
Mobius vs Carta E-Ink Display
It has an 8-inch 1,920 x 1,440 and 300ppi E-ink Mobius display due to which the screen is lighter and a tad more flexible than that of E-ink Carta displays.
The front lighting offers several different colors ranging from white to a deep yellow-orange or soft blue. The deep yellow-orange hue is best for reading at night, considering the white or blue are harsher.
Left And Right Hand-Friendly
Both left and right-hand users can use the device equally well. Turning over the device re-orientates the display to meet your needs.
Turning pages is a simple task. You can do this by tapping the device's capacitive display or by using the page-turn buttons.
In case you are searching for e-books to read, visit the Kobo store to download the best e-books online. It is a joy to read comics and other graphics-oriented content because of the device's large and crisp display.
Contextual Dictionary
The unit, priced affordably, boasts of a contextual dictionary, no annoying ads, as well as the ability for font spacing, gutter, and line spacing.
Try this e-books reader today. It offers you the best value for your money, and the company's store has the best eBooks available on the market. You can also use this tablet for online newspaper reading.
Best Android Ebook Reader Device
(New Model eBook Reader Boox 6″ Poke Pro E-Book)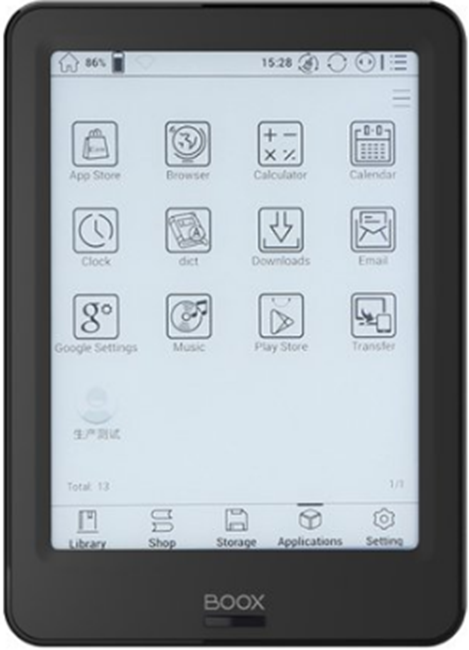 Android eReaders: So far, we have been talking about dedicated e-book readers running on dedicated operating systems. The New Model eBook Reader Boox 6″ Poke Pro E-Book is an Android reader, and it excels in its job.
Physical Attributes
It uses an E-ink Carta HD display and has a screen size of 6 inches. Its display resolution is 1,446 x 1,072 and 300 PPI. It uses a Cortex-A17 1.6GHz Quad-core processor and has an internal storage space of 16GB plus 2GB RAM.
It is front-lit, and users can change the color temperature. The device neither has physical page turn buttons nor a Micro SD slot.
It runs on Android version 6.0.
The battery is of 2800mAh, and the unit offers a connection via Bluetooth 4.1 and Micro USB.
The unit weighs 170 grams and is the best Android eReader available. Opt for this unit if you are searching for a reliable Android eBook reader.
Although this Android eReader tablet is not waterproof, it offers good value for money and can play audio files via Bluetooth too. It also serves as a PDA eBook reader. You can get some of the best eBook reader apps for this device as needed.
After going through the list of ebooks eReader, find out which e-book device has the best e-book hardware. You will find the details of the e-book device of choice in the best e-readers reviewed above.
Once done, you can buy an e-reader of your choice.
If you need some ebooks to read, you can download some of the best digital books online for your portable book reader and read them on the go.
Once used to e-reader palm, you might only occasionally revert to reading normal paper books and spend more time reading your favorite books and comics on palm eBook readers.
Wrapping It Up
I hope that you have found an eBook reading device of your liking in the above e-reader reviews. You can now buy an eBook device after going through it.
Do not forget to purchase an eBook device pad and place your device on it so that its soft plastic back remains unscratched. You can find e-reader pads in online stores. I am sure that once you use an e-reader, you will understand the difference between an e-reader vs books.